While I realise my current lurgy-fied state reduces the amount of excitement I can handle, I promise this post is better than it sounds...well....if you're an embroiderer/ tangled thread owner like me!
This is my tidy thread stash. I use the word 'tidy' loosely...had you seen it 5 minutes prior to the photo you would have definitely questioned my grasp on english.
This is my un-tidy stash .....words not so loosely used here! Aherm.
The thing is, despite my seeming lack of disregard, I DO love my threads and the gorgeous array of colours I have gathered. I have wanted a better way of storing/displaying them, other than the card offcuts I've launched into a recycled box, for a while. Something that allows me to easily see my colour choices, something that creates a lovely display in my studio, but something that is also portable.
Having little energy to do much else (back to being lurgy-fied!) I have been perusing the wild web, curious to see how other stitchers are keeping their embroidery threads stored and tidy!
And so here is what I found...
These very cute little cats were created by Gloria over on The Little White Whale - very simple to make and so many variations come to mind. Though I'm essentially still back to cardboard (though nicely shaped!) being launched into a box.
I found these lovely birch plywood bunnies and hedgehogs in this etsy shop;
Isn't the hedgehog a clever design? However at approx £10 for 3, a small mortgage would be required if I wanted to "house" every different coloured thread I have.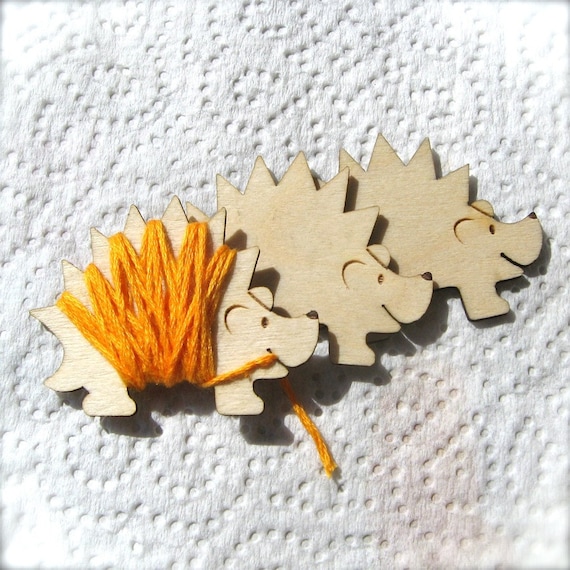 I like the idea of Jessica's over on Sew Homegrown, who created this simple and very lovely way to store her ribbons, using corrugated cardboard and reclaimed wood . This would easily work with embroidery thread, be inexpensive and I could easily pick out the colours I wanted to use and carry them around. Jessica created a tutorial,if you are interested you can find it here.
This made me smile when I came upon the ingenuity........
.
Spruced up bread clips to hold your thread! Do you still get these clips?
Loving the genius of Amizuki ...though not sure I could eat the amount of bread required for my thread collection....may take a while.
The last option I found, I'll tell you now is probably the one I'm going to go for.....It's the
wooden peg option!
Heather shared this on her blog Mrs Jones, and the above photo immediately had be enticed. Add the fact that the pegs are all ready for immediate use , and I am pretty much convinced.
No cutting, hole piercing, bread eating, mortgage taking. Sweet!
As an extra thought, I also love that the ends of the thread can get pinched by the peg AND that I can string the colours on twine along my studio wall = easy access , lovely display & portable threads.
Yep I'm 100% sold. Now to get the pegs and start a winding. I promise to update once done.
What about you? How do you store your threads. Do you have a better solution?I'd love to hear x